Wine & Farmer Dinner Series: 12/23 with McCall Wines & Jamesport Farmstead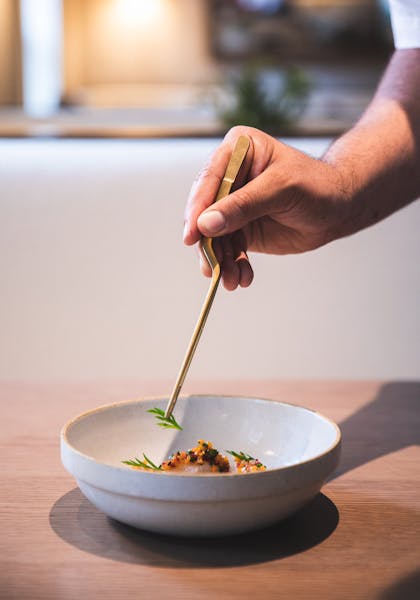 Every Wednesday this December we invite you to join us for a special evening with some of our Wine & Farmer partners in the North Fork. For our second dinner on Wednesday, December 23rd, we will be joined by McCall Wines and the Jamesport Farmstead.
McCall Wines
has been growing and selling grapes on Long Island's North Fork since the mid-1990s. Since then, they have followed a model of winemaking focused on getting consistent results. They have been proudly farming and producing award-winning wines since.
Jamesport Farmstead, made up of 50+ acres with 5 in cultivation, is located on the North Fork of Long Island. As a Certified Organic operation, they are committed land stewards and food producers. Their farm includes diversified annual vegetables, fields of berries, stone fruits, pears, and hazelnuts, and a cut-flower and perennial herb garden. The farm is intensively managed without the use of any herbicides, synthetic fertilizers, or pesticides. As a no-till farm, they honor the soil by building organic matter through the practices of permanent bed systems, cover cropping, composting and natural amendment applications.
There will be a three-course dinner menu by John Fraser which has been curated to be perfectly paired with a selection of wines.
Seats are limited, secure your spot today! Tickets can be purchased on the North Fork Table website and OpenTable.
Your health & safety is our priority. All parties will be seated at separate, socially distanced tables and we will require all guests to wear a mask when not seated at their table.


Reserve your table here.

Wednesday, December 23rd
5:30pm-8:00pm
$110pp
Menu
Oyster cocktail
Saffron Tomatoes, Black Pepper Radishes, Dried Black Olive Puree
McCall Whole Cluster Pinot Noir Cocktail

Pea Tendril & Ricotta
Ravioli Steamed Carrots, Spicy Pistachio-Parsley Pesto, Mustard Oil, Parmesan Cheese
McCall, Nicola's Sauvignon Blanc, 2019

Herbed Crusted Venison Loin
Mushroom and Bacon Stuffed Buckwheat Crepes, Grilled Beets, Shallot Jus
McCall Merlot Reserve, 2013

Grilled Pineapple
Hazelnut Caramel, Gingerbread Crumble, Confit pumpkin, Brandy-Vanilla Meringue
McCall Brandy VSOP