Wine & Farmer Dinner Series: 12/09 with One Woman Wines & Treiber Farms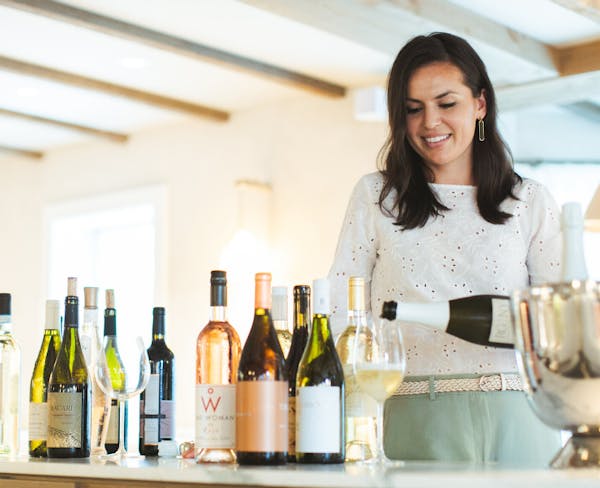 We are excited to announce our Wine & Farmer Dinner series! We are partnering up with our friends at vineyards and farms, to celebrate the bounty on the North Fork.
Our first dinner in the series will be on Wednesday, December 9th, where we will be joined by One Woman Wines and Trieber Farms.
One Woman Wines & Vineyards
is located in Southold, NY. Much of the vineyard was hand planted and each vine has been meticulously tended to by Claudia's exacting touch. The superiority of her work is evident in each of the wines made from the vineyard. A few sips will lead you to appreciate just what one woman's hard work can produce.
Treiber Farms produces a diverse range of flavorful foods for chefs and eaters on Long Island and beyond, and they cross-pollinate agriculture and the arts through collaborations and events, with every step rooted in a creative and resourceful approach.
There will be a three-course dinner menu by John Fraser which has been curated to be perfectly paired with a selection of wines.
Seats are limited, secure your spot today! Tickets can be purchased the North Fork Table website and OpenTable.
Your health & safety is our priority. All parties will be seated at separate, socially distanced tables and we will require all guests to wear a mask when not seated at their table.

Wednesday, December 9th
5:30pm-8:30pm
$110pp
Menu
Canapés
Broiled Clam with Sun-Dried Tomato Butter
Chilled Oyster Half Shell with Lemongrass & Scallions
Tuna Tartar with Cranberry-Marcona Almond Relish
Monkfish Sausage with Dried Sage & Mustard Seed
Pairing Rosé 2018
Appetizer
Warm Shellfish in Farro Brodo
Grilled Lettuces, Squid, Lobster, Scallops & Parmesan Cheese
Pairing "Estate Reserve" Chardonnay
Entrée
Smoked Dry-aged Duck
Potato Gnocchi, Cheese Pumpkins, Burnt Pine Nuts, Foie Gras Butter
Pairing "Roccia" Red Blend 2016
Dessert
Apple Tart Tatin
Saffron - Ginger Glaze, Caramelized Clover Honey Ice Cream
Eau de Vie Rouge + Shortbread cookie
Pairing Grüner Veltliner Dessert Wine 2014